The disability process can be long and difficult, but having a team of caring, expert attorneys on your side can make all the difference.  We realize the impact of being unable to work can be devastating for you and your family, and we want to do more to help. For that reason, we've compiled the following list of top resources available to residents throughout the state:
1. Programs through the Michigan Department of Health and Human Services (DHHS)
MI DHHS has multiple programs with different criteria to qualify. Here are just a few:
Cash Assistance Program

Food Assistance Program

Child Care Assistance

Emergency Relief – including burial, energy and weatherization, heat and utilities, home repairs

Housing and Homeless Service

Health Care
Apply online at: www.michigan.gov/mdhhs
2. Covid Emergency Rental Assistance (CERA)
Have received a past-due rent or utility notice, notice to quit or a court-ordered summons, complaint, or judgment for unpaid rent after March 13, 2020

Have a gross household income below 80% area median income (AMI), for the area

Have experienced an eligible COVID hardship since March 13, 2020

A state ID (or other government-issued ID) in the tenant's name (with supporting proof of residency if the address does not match the unit)

A lease agreement in the tenant's name (if a written lease was completed)
Apply online at www.ceraapp.michigan.gov
3. Energy Assistance Programs
Help is available if you need energy assistance. Please reach out to the following agencies for more information.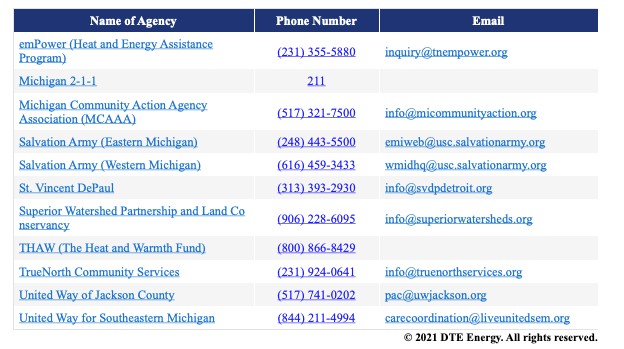 4. Resources for Seniors in Southeast Michigan and Metro Detroit
Contact Area Agency on Aging 1-B. T

hey're available Monday through Friday, from 8 a.m. to 5 p.m. at (800)-852-7795 or visit their website, aaa1b.org
5. The Salvation Army Assistance
Michigan residents and families can contact the Salvation Army for an array of services and resources, in addition to the energy services listed above. Other services include financial assistance, housing, medical care, veterans support, utility bill help, senior assistance, job training, food pantry, clothing, and emergency assistance, and more. For details and to apply, visit: https://centralusa.salvationarmy.org/emi/.